The
Red Wings waived
Derian Hatcher, Darren McCarty and Ray Whitney, opening the door to buy the three of them out of their contracts if they go unclaimed on waivers (which they will). This was completely expected, as those were the three players rumored to be going from the time the NHL announced the ability to buy players out for no charge against the cap.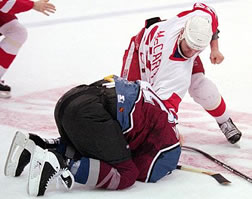 It's going to be tough seeing McCarty in another jersey. Even though he's probably on the down side of his career, the guy has provided so many big moments in his career: Whaling on Claude Lemieux, to scoring the game winner against Colorado in that same game (which propelled the Wings to the 1997 Cup and was probably the most entertaining hockey game ever), to scoring the Cup-Winning goal by turning Janne Niiniimmaaaaa inside out, to scoring a hattrick against Roy on the way to the 2002 Cup.Thanks Mac. I'll miss seeing you in Detroit.
As for Hatcher, it would have been interesting to see how the guy would've done with a year off to recover from his ACL injury. I think he can still play in this league, but if the Wings buy him out, they can use his money to sign another defenseman (Mathieu Schneider would still be my preference) or another body up front.
The thing that sucks about them buying out Whitney is that you know he's going to end up going to Columbus or Nashville and being a Red Wing killer for the rest of his career, even though he did next to nothing in Detroit.
Letsgowings.com
paraphrases assistant GM Jill Nill who says the team is considering buying out a fourth player, who is rumored to be either Manny Legace or Robert Lang. If you keep Legace, he has to either be the starter or a 1/1a in a goalie platoon. You can't keep him at his salary as the backup. If they're dead-set on bringing in Osgood, they need to keep Legace. I'm not comfortable with a Osgood/MacDonald goalie tandem.
As for the idea of buying out Robert Lang, unless they've got a pretty good idea that Fedorov will be bought out and that he'll come back for the type of money that Lang is making, they're nuts if they get rid of him. When your best player is making $3.8 million, you don't cut him. When the leading scorer in the freaking league (if he stayed healthy for the last week) is making $3.8 million, you don't cut him. The cap is $39 million, so he'll be making just under 10% of the cap. That's not at all unreasonable for a guy who has put up 65, 80, 50 (in 62 games), 69, and 79 points the last 5 seasons.
Mike Wilbon on PTI was up-in-arms today because the
four Andretti-Green drivers boycotted
a mandatory autograph session this weekend because Danica Patrick was going to be given a separate line than every other driver. They've been unhappy since Indy, when Patrick completely overshadowed Dan Wheldon actually winning the race. Wilbon says that those drivers are just being punks and that Patrick is bringing exposure to the sport, which will ultimately make them more money.
While
The Blog That Yost Built
believes that more exposure is a good thing, the IRL was wrong for putting her in a separate autograph session. Basically the way it works is that a fan waits in line and then goes down the row, meeting each driver. To put Patrick by herself means that the fan who waits to meet her (and there'd be a ton of them) won't be meeting any of the other drivers. They won't realize what a great person Bryan Herta is, how funny Tony Kanaan and Helio Castroneves are, and how Patrick Carpentier will steal your pen. If they build a huge fanbase for Danica, and then she bails to go to NASCAR or something, what have you really gained?
It's great that she's actually getting the media to talk about the Indy Racing League, but at the same time, the IRL should be using her to help promote its other drivers as well. The AGR guys have a right to be upset. (For the sake of recognizing my own biases, Bryan Herta and Tony Kanaan are my favorite drivers) I've started rooting for quite a few drivers based on how cool they were in person. Danica doesn't seem like the most friendly person on the planet based on interviews I've seen (though to be fair she might be great with the fans). By putting her in a separate line, if she is having a bad day or something and doesn't treat a fan well, they might be turned off on the series as a whole. If she's in a line with Kanaan and Helio (amongst the others), who are pretty darn funny guys the fan might say "Well screw her, I'm gonna root for Kanaan!" and the series still has a fan.